The iPhone sock for Jules is finished: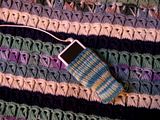 (Modeled by the Precious; isn't she gorgeous?) The cabled scarf is coming along much faster than I expected: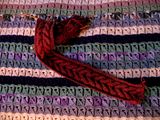 And I've bought another sushi wallet kit, this time for me:
The one I made as a gift was just too cute. Plus, now that I've jumped the felting hurdle, it's not quite so intimidating. I also now know that there will be more than enough yarn left over for an iGadget sock, so the Precious will be getting a new sock after the wallet is finished.