Hee!
And now, for some knitting: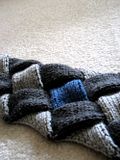 The entralac is so much fun! I'll have to lightly block it once I'm finished, just so it's not so puffy.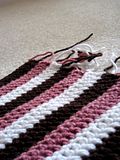 I'm hoping to have this baby blanket crotched in time for the baby shower I'll be attending in San Francisco next month. We'll see. 😛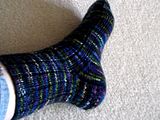 My first sock! It fits my foot perfectly; although, I'm not sure I like how the toe finished out. Maybe I'll try a different bind-off on the second sock. These are just for when I'm bumming around the house, so they don't have to be perfect or anything.